---
---
---
⎾ darian hart ⏌
MultiMedia Artist
Illustration | UI Graphics | Stream Branding | Graphic Design | Motion Graphics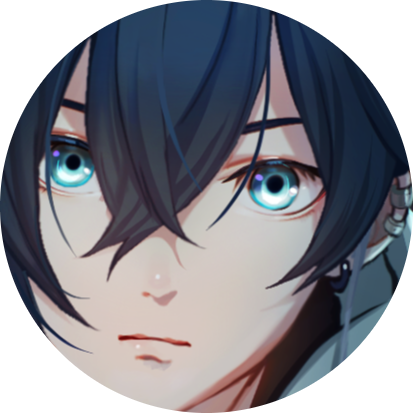 ---
---
---
---
⎾ about ⏌
---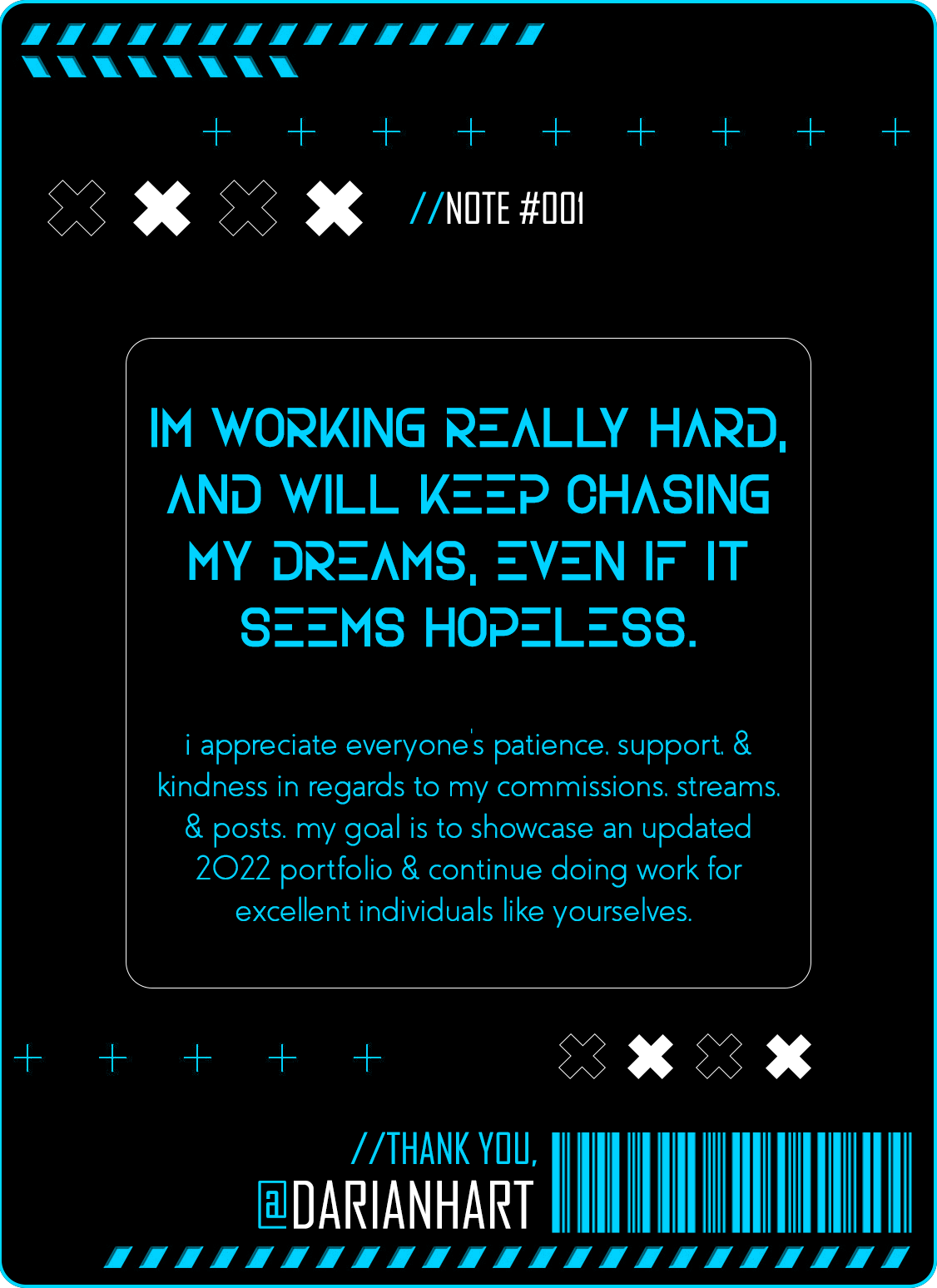 ⎾ I N t e r e s t s ⏌
square enix & Capcom games

story-telling & writing

illustration & graphic design

film-making & editing

motion graphics & vfx

character design & branding

minimalistic design

edgey & darker themes

avid porter robinson fan
⎾ my community ⏌
we are called the 'drifters'
because we're always drifting
in life from one place ⥂ to the next.
...
it doesn't matter where we're ⥂
going, or what we're doing...
as long as we're together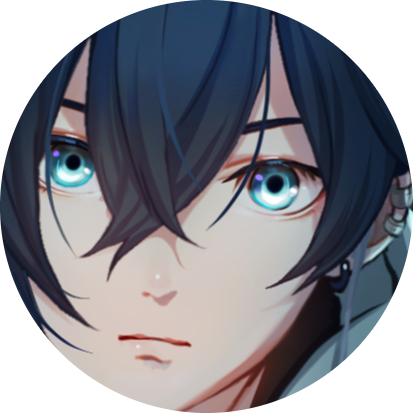 ⎾ d a r i a n ⏌
multi-media artist & creative
Thank you for taking the time to come and visit my page! I appreciate it very much! I'll go ahead and tell you a little bit about me.I've been creating art on FFXIV's platform for years, drawing characters live in-game just to spread good cheer! Free art raffles, I've done thousands of them. I've learned so much over time, and am forever humbled to continue to do what I do, as a loyal community member.IRL, I worked really hard to obtain my degree, and am proud to share I've majored in Graphic Design & minored in Marketing Management, here in California - the sunshine state.I'm out here on the creative platform full time, ever since the corona pandemic hit. I lost my job at the studio that I worked at due to the corona virus affecting it heavily. I turned my hobby of streaming into a precarious, passionate, & uncertain career.Over the past two years, words can't really describe the amount of hardship we've undergone - to the point where we are actively facing losing our family home. I'm sure this is relatable to quite a few of you guys out there. At the very least, there is comfort knowing that the sun will always rise on the 'morrow. Never lose hope.
---
⎾ portfolio ⏌
---
⎾ illustration ⏌
---
⎾ portfolio ⏌
---
⎾ schedule design ⏌
---
---
⎾logo design⏌
---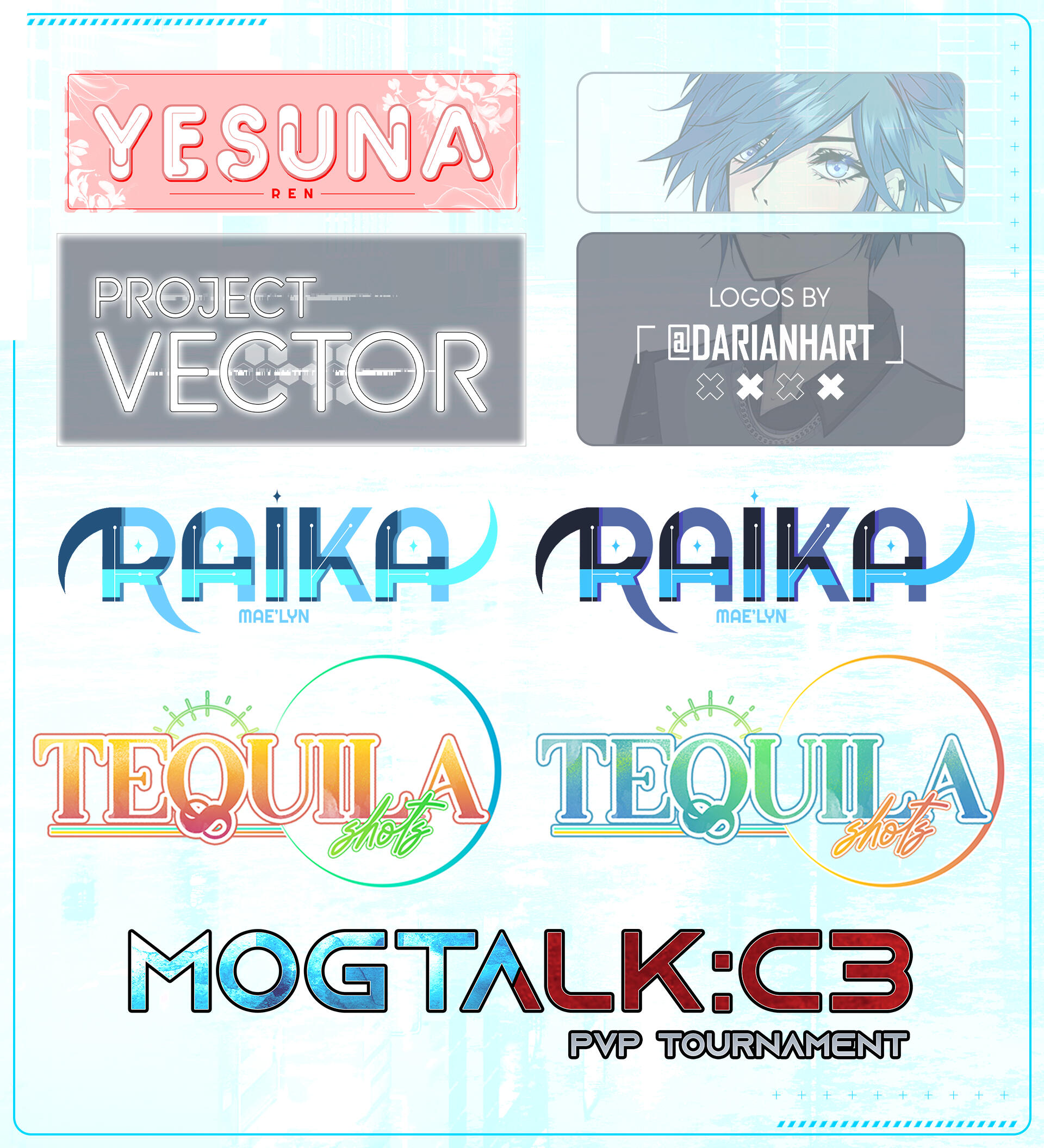 ⎾ portfolio ⏌
---
⎾ panel design ⏌
---
⎾ portfolio ⏌
---
⎾ animation projects ⏌
---
---
⎾ motion graphics & editing⏌
---
⎾ portfolio ⏌
---
⎾ Live2D Ilustration & Rigging⏌
more examples will be added soon
---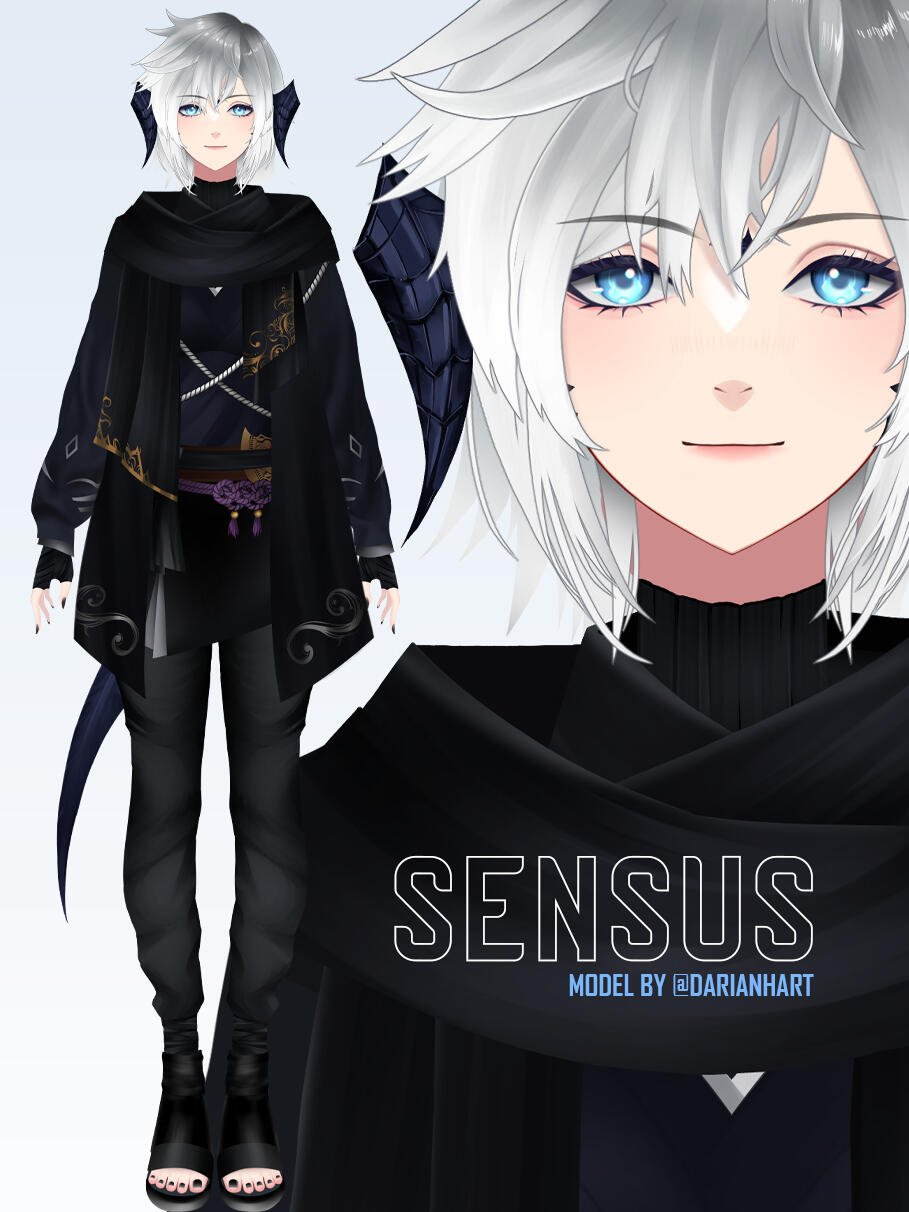 My most recent model I created for Sensus! A fully rendered artwork/rig that I'm proud of! I'll release a rig video of this later once the rig is complete!
Please enjoy my rig showcase for my model, Darian! I have completed other rig work, but haven't made showcases just yet. Stay tuned!
My first self-test project! This is Darlene. I worked hard illustrating a fully complete model psd of her. She is in the process of being rigged currently as well!
Live 2D Animated Illustrations I Have Rigged
(will add more soon)
⎾ terms of service ⏌
BY COMMISSIONING ME, YOU ARE STATING THAT YOU HAVE READ AND AGREED TO THESE TERMS OF SERVICE.
---
> || BASIC TERMS OF SERVICE || <• PAYMENT IS EXPECTED WITHIN 48 HOURS AFTER I ACCEPT AND CONFIRM YOUR REQUEST.• PAYMENT IS ONLY ACCEPTED VIA PAYPAL.• THE COMMISSIONER MAY RE-UPLOAD THE IMAGE WITH CREDITS GIVEN TO MYSELF IN THE FORM OF A TWITTER MENTION.• I RESERVE THE RIGHT TO CANCEL A COMMISSION AND REFUND ANY PAYMENTS ALREADY MADE. THIS CANCELLATION MAY BE DUE TO BUT IS NOT LIMITED TO, FOR EXAMPLE, POOR COMMUNICATION OR INAPPROPRIATE BEHAVIOR.> || IMAGE COPYRIGHT || <• I, THE ARTIST, RETAIN FULL AND EXCLUSIVE RIGHTS TO THE ORIGINAL ARTWORK. THE CLIENT MAY NOT CLAIM IT AS THEIR OWN OR USE IT FOR ANYTHING OTHER THAN PERSONAL USE.• ALL COMMISSIONED ARTWORK IS FOR NONCOMMERCIAL PURPOSE ONLY. REDISTRIBUTION OF MY ARTWORK FOR USE IN PRINTED MERCHANDISE OR AS PROMOTION OF GOODS, SERVICES OR SOCIAL MEDIA PAGES IS PROHIBITED. IF YOU HAVE ANY QUESTIONS ABOUT THIS, ASK ME BEFORE COMMISSIONING ME.• THE CLIENT HAS MY PERMISSION TO REPOST THE ARTWORK WHEREVER THEY WOULD LIKE, AS LONG AS PROPER CREDIT IS GIVEN TO MY TWITTER @DARIANHART AND MY WATERMARK/SIGNATURE REMAINS UNALTERED.• YOU MAY NOT ALTER MY ARTWORK IN ANY WAY (ASIDE FROM CROPPING) OR CLAIM THE ARTWORK AS YOUR OWN.> || PAYMENT OUTLINE || <• ALL PAYMENTS MUST BE SENT THROUGH PAYPAL ONLY.• THE CLIENT WILL HAVE 48 HOURS TO PAY A PAYPAL INVOICE SENT BY THE ARTIST.• PAYMENT PLANS ARE OFFERED, PLEASE CLARIFY BEFOREHAND.• PLEASE PROVIDE A SCREENSHOT PROVING THE CLIENT HAS PAID THE INVOICE. SOMETIMES A PAYMENT WILL NOT FALL THROUGH AND THE ARTIST WILL NOT KNOW ABOUT IT. IF YOU FAIL TO INFORM THE ARTIST THAT YOU HAVE SENT THE PAYMENT WITHIN 48 HOURS, AND THE ARTIST KNOWS THEY HAVE NOT RECIEVED THE PAYMENT, THEN THIS WILL MEAN THAT YOU ARE SUBJECT TO THE POSSIBILITY OF A CANCELLED COMMISSION.> || REFUND POLICY || <• THE ARTIST RESERVES THE RIGHT TO CANCEL A COMMISSION AT ANYTIME, FOR ANY REASON, AND WITHOUT EXPLANATION.• IF THE ARTIST CANCELS THE COMMISSION DUE TO INABILITY TO COMPLETE IT AT ANY STATE, A FULL REFUND WILL BE GIVEN.• IF THE CLIENT CANCELS THE COMMISSION DURING PROGRESS, THE AMOUNT REFUNDED WILL BE ON A CASE-BY-CASE BASIS AND UP TO THE ARTIST'S DISCRETION.> || CONTACT & COMMUNICATION || <• DISCUSSION OF COMMISSIONS CAN BE CONDUCTED VIA DISCORD, TWITTER, OR EMAIL.• IF CLIENT DOES NOT FOLLOW UP ON MESSAGE CONFIRMATIONS, THEN THE ARTIST HAS THE RIGHT TO CANCEL THE COMMISSION.> || VISUAL REFERENCE GUIDELINES || <• CLIENT MUST PROVIDE CLEAR REFERENCES OF THEIR CHARACTER. A REFERENCE FROM THE FRONT, BACK, AND A CLOSE UP REFERENCE OF THE FACE IS RECOMMENDED.• CLIENT IS ENCOURAGED TO PROVIDE ANY ADDITIONAL ART STYLE INSPIRATIONS AND REFERENCES TO AID ME IN THE PROCESS OF CREATING YOUR COMMISSION. THE MORE REFERENCES, THE MORE I CAN UNDERSTAND YOUR PREFERENCES.
---
⎾ commission ⏌
---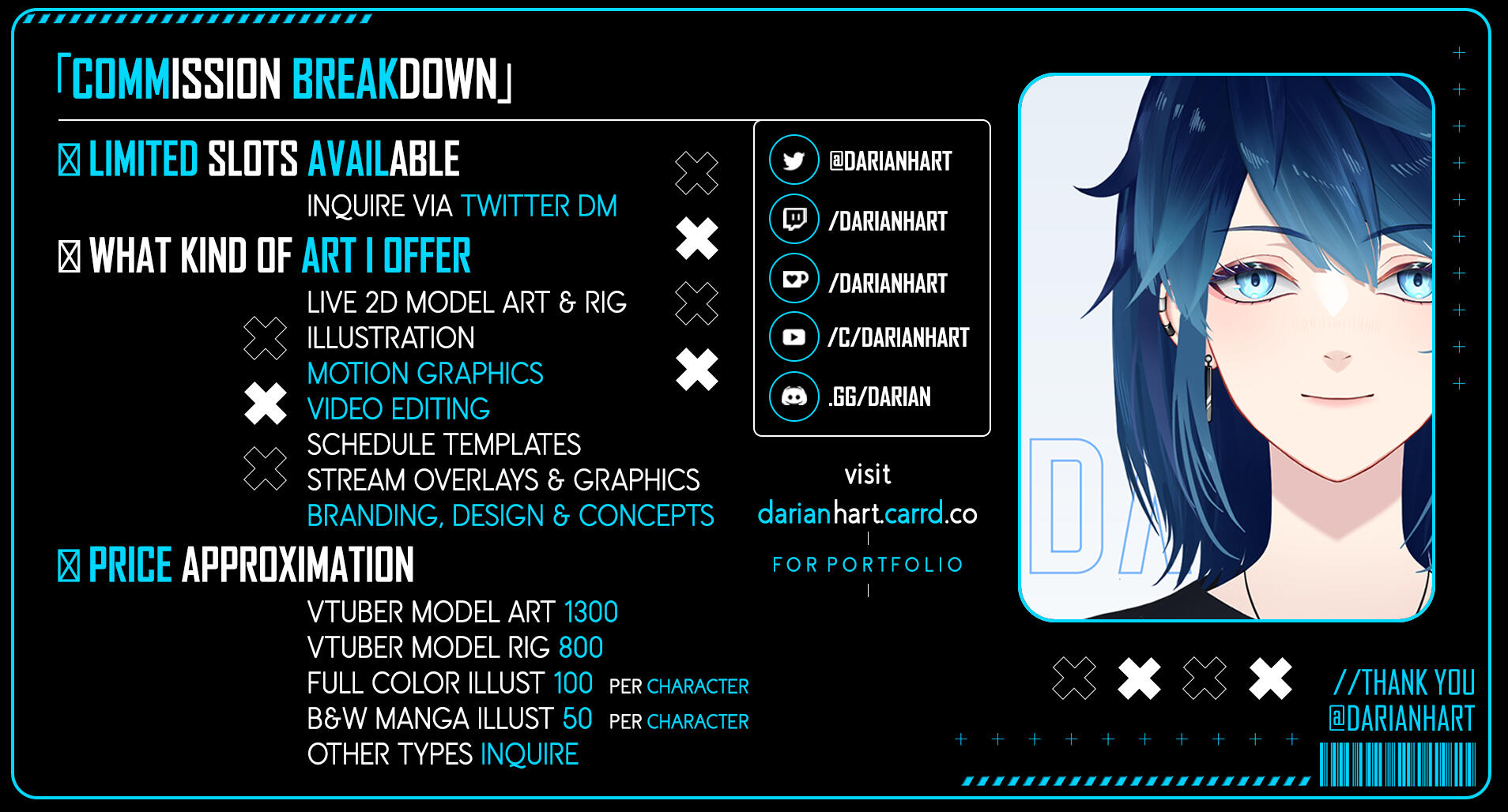 ⎾ darian hart ⏌
---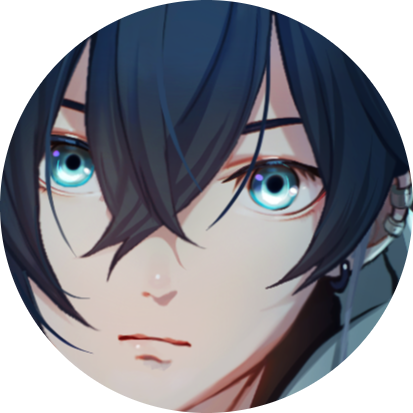 ⎾ d a r i a n ⏌
my main character
the mellow, soft, & sentimental
| Aquarius | Moon | Night |
A character that is an extension of myself, and of course he has his own creative twists and quirks! Here's a brief spiel about him.Personality: An Aquarius, like myself! He is a sentimental soul at times but loves to stay focused and get the important things done. He can be a total softie at times but knows that even HE has to step forward and make the hard decisions. Although he enjoys his time alone, he also savors the time he spends with his friends, because they mean so much to him. He is usually content, but if he isn't, he tends to internalize some issues before even thinking about burdening his loved ones with his plight. Eventually, he does come around and speak when he is ready. He loves clear communication and problem solving, and always chooses to do what's right for the greater good. Some people think he's just an emo kid, but that's far off the mark because he actually knows how to have fun and break away from issues. In fact, he often gives advice to the people he cares for so he can help himself by helping them.Favorite Things: Seafood. He loves sushi, shrimp alfredo pasta, and relaxing in beautiful places, and sometimes even in the comfort of his own room. He loves to be creative, he draws, writes, and is an avid supporter of music. He loves going to the beach during an overcast sky, since gloomy weather is typically his favorite. Swimming, running, and gaming are also great past times, and if he had more free time he'd learn how to cook new recipes. He always had an interest in food creation, but due to time constraints his menu of things he can make is relatively short. He really likes animals... but he doesn't own any, and is often stuck in a stupor of admiration if one catches his eye, or if his friends show him theirs. Cute things are great in his opinion, but they also frustrate him because it makes him feel so fuzzy inside. What is love?!Traits: He is 5'10, has light blue eyes and dark hair alongside a light complexion. He enjoys his ear piercings - something he rarely speaks about, since it hides behind his hair. He has no tattoos, though is very interested by the symbolism they can represent.Lover: When it comes to loving, he is very fierce and prefers to remain in control of every situation. He, however, remains completely open-minded to any type of possibility, and is in fact very entertained when his partner surprises him with something different or even tries to put up a front and fight back. He is very sadistic when he wants to be, but at the same time he is no stranger to any pain returned. He can be coaxed into different ideas, and is susceptible to words and whispers.Issues: He smokes when he is severely stressed and becomes slightly fidgety and finicky when he's feeling it. When he's happy, he has no desire to succumb, but when he's at his low, he will ruin himself unintentionally. He drinks only on social occasions, or again, when he's highly stressed or coaxed into it. Sometimes when he's distressed he's unable to rip away from his perspective and shuts out other possibilities of reasons because he's blinded himself. When clarity strikes, he can be the most apologetic - and he can clearly understand and pinpoint his own issues. Sometimes he just needs to get over things alone, and he rides it out the way he knows best.Qualities: The qualities he savors in others are the following: Love, Loyalty, Kindness, Honesty, Communication, Open-Mindedness, and Courage.
⎾ ein verdani ⏌
---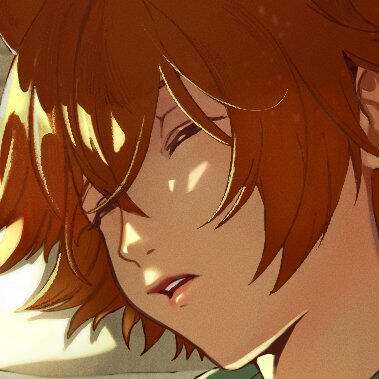 ⎾ E I N ⏌
my alt character
the bright, happy, & thoughtful
| Capricorn | Sun | Day |
Ein is a crafty guy and in his spare time he likes to make stuff. He's a little tinkerer! He will make bracelets by threading different types of bands and strings, he'll even use different types of beads and what not.He also likes to scrapbook. He'll print out photos he likes of cute memories and paste them into a book with nice stock papers and borders and stuff.He's pretty decent at the above, but the third hobby he likes to do is cooking which he aims to get better at. He's alright at it, and more than capable. He excels at making a good breakfast, but he knows to practice more on dinner type of meals. He can really knock it out of the park sometimes, but sometimes he needs a lot of work. As for desserts, he loves making them and they taste decent and look great.Ein can get frazzled easily sometimes but with a bit of consolation he can feel a lot better. He likes it when someone shows love and affection, even care for him. He usually is on the positive end of the spectrum but if shit happens, he can work himself up and get terrified of impending doom.He has a pet cat named Muffin, and he loves her. She makes him super happy. He also has an interest in taking care of plants, watering, and even gardening. He's a big fan of nature in general and enjoys it everytime he goes out.Ein lives in his grandma's house, and she had passed away when he was in high school. He lived alone since then and just had muffin, his cat. His grandma would do a lot of knitting so he has a lot of beloved shawls and blankets from her that are meaningful to him.It's also apart of why he finds comfort in tribal type of designs, they bring a sense of homeliness to him.He found out he was bisexual really early on, around his middle school days. He loved everyone around him very easily and tried to have fun with his friends.He was teased and bullied growing up and throughout school, and eventually things got better around the time he graduated.Ein in short is a very thoughtful person with a big heart. And despite talking too much out of nerves or just plain fun sometimes, he always means well. If a friend is hurt or sad, he'd do anything to defend them or help them.Ein sometimes doesn't make sense, but that's only because he, himself is confused.And he does have accessories like earrings, he likes beaded bracelets or braided bracelets, since he likes making them for fun. he doesn't wear gloves too often unless it's for crafting or to match a cute outfit.Depending on what he's doing he'll wear things accordingly, but regardless he likes and enjoys fashions. He loves cute small backpacks too.
⎾ demo ⏌
---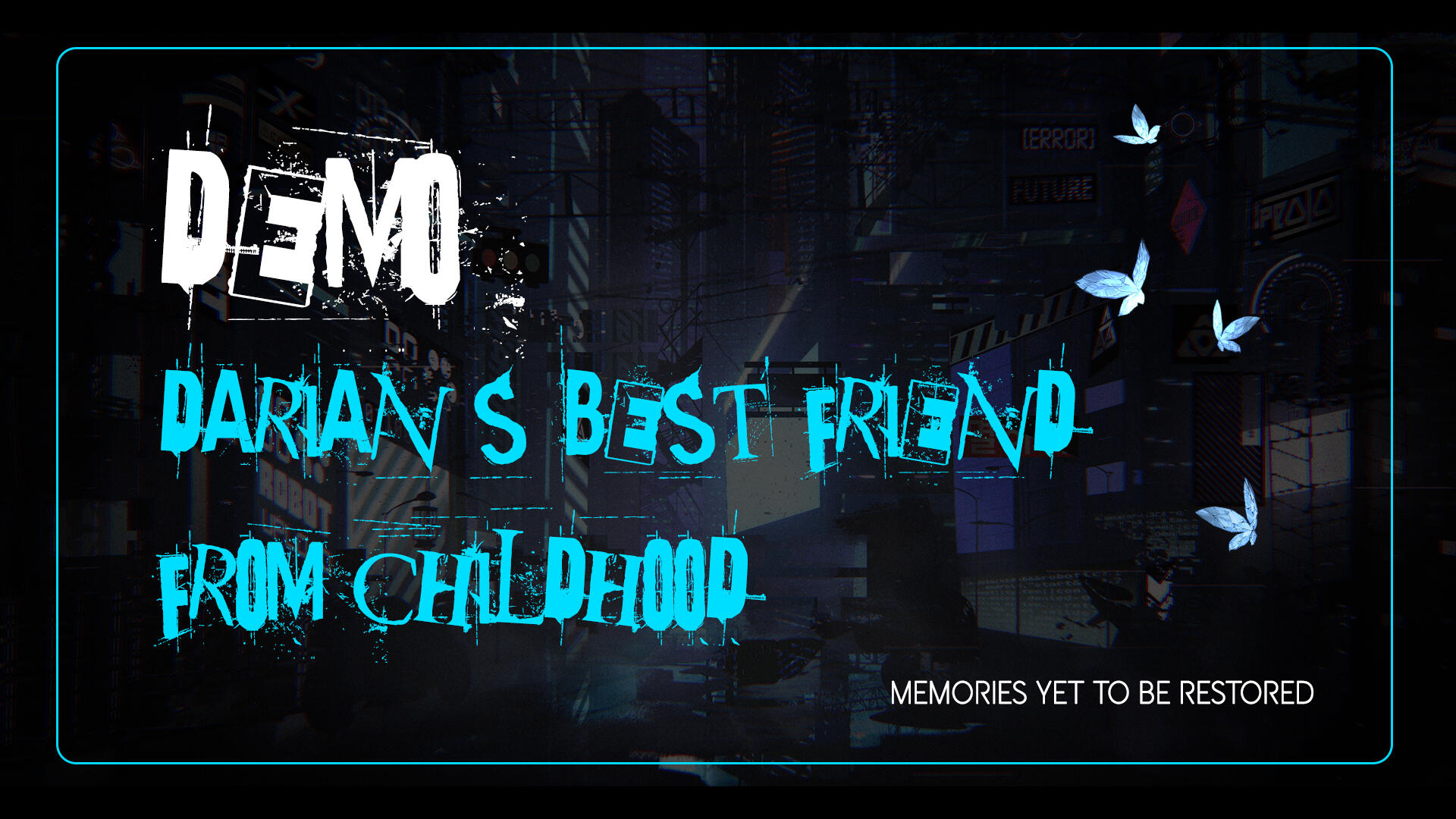 ⎾ jatzia⏌
---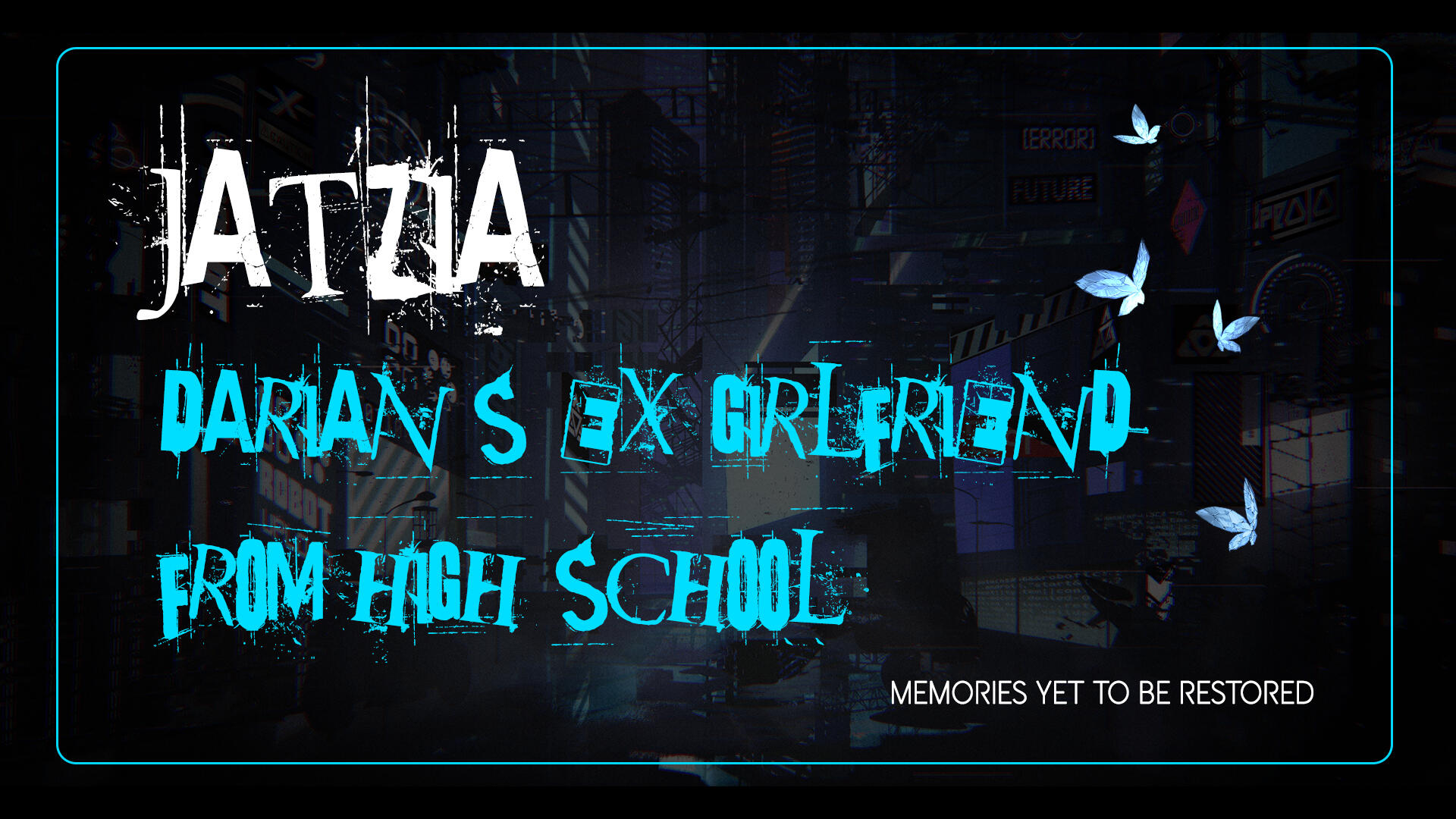 ⎾ odd eyes see ⏌
⎾ my visual novel ⏌
---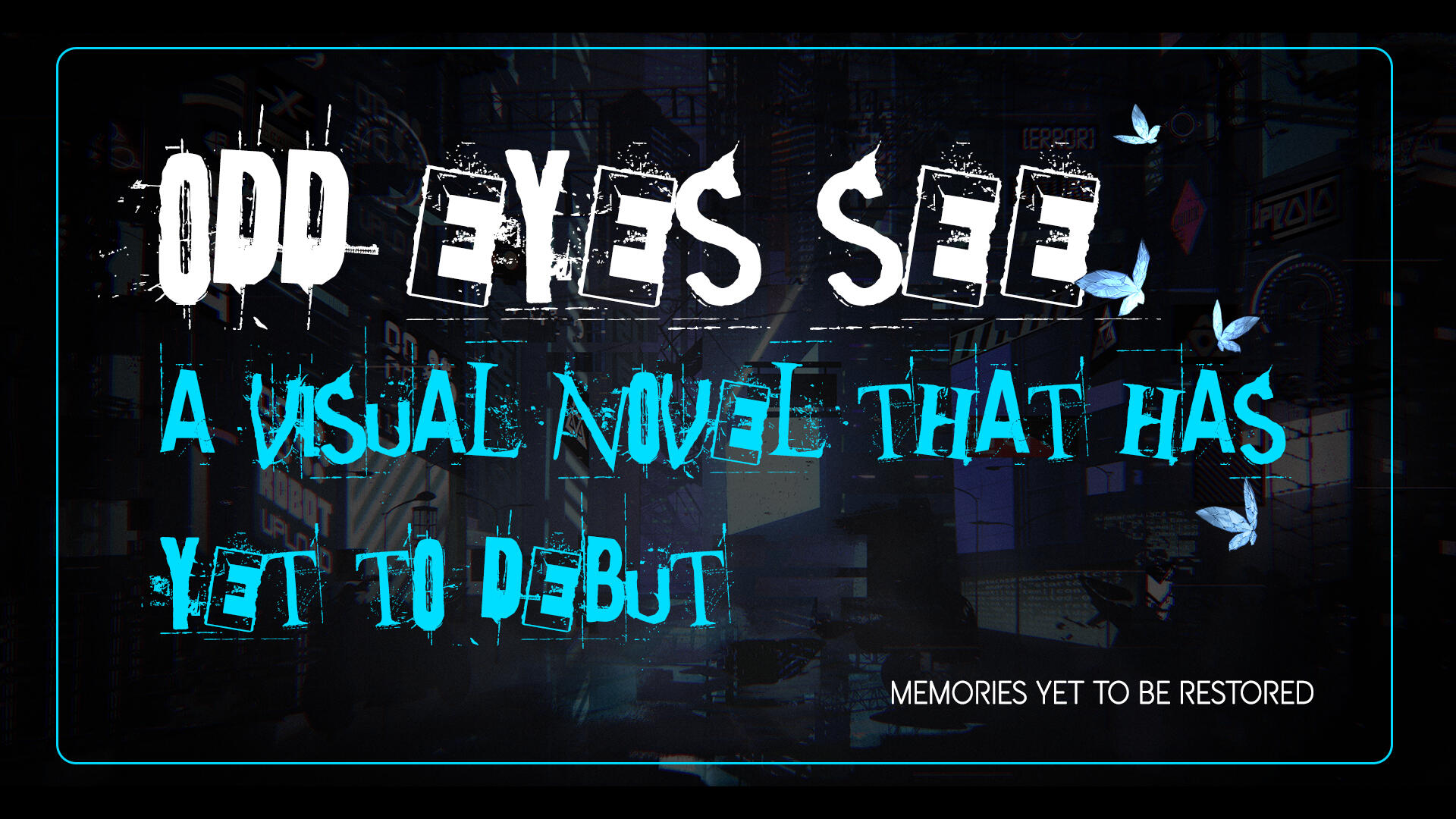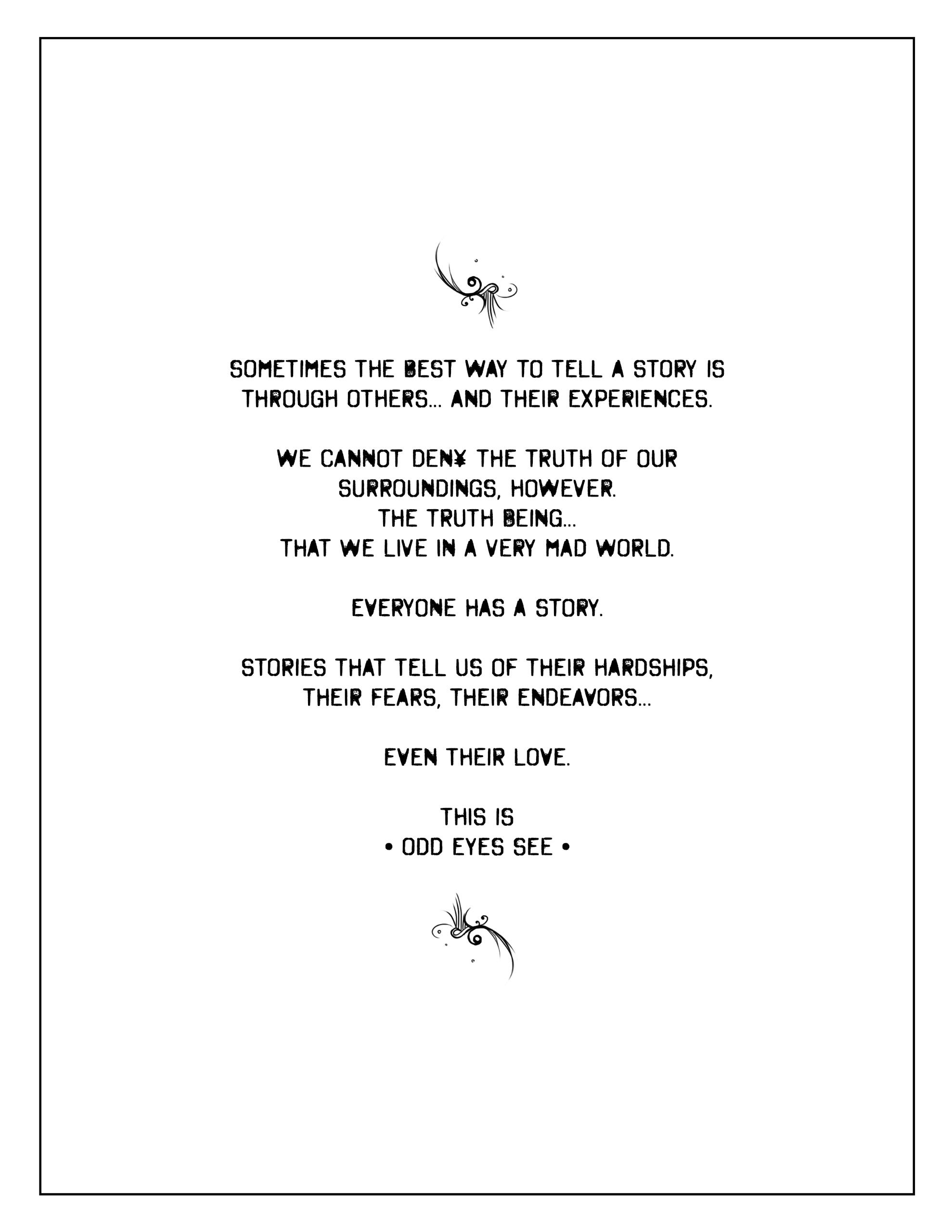 ⎾ auction ⏌
⎾ gil commissions - limited time ⏌